A Typical Journey of a Methodist Pastor's Family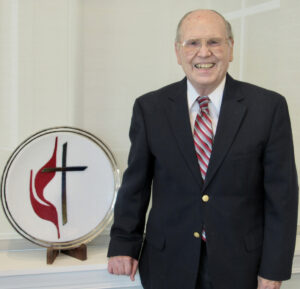 By Janet Shafer
When Bob and Chris Wallace followed directions to their new pastoral appointment in North Carolina, they arrived at a wide spot in the road, with a gas station and one lone house next door. Pulling a trailer with household possessions, they had driven long miles from Mississippi, with five little children anxiously peering out of the windows. Bob stopped and inquired of a few men seated outside the gas station " Do you know where Efland is?" The reply came, "That's your house right there, preacher!" Thus began a long career of serving United Methodist Churches in this area.
A native of northeastern Ohio, Bob spent part of his early years on a farm, milking cows and driving a tractor. He joined the Air Force immediately after high school graduation. He was stationed at Fletcher Field in Mississippi, where he met a local girl, Chris. When word came that he would be sent to England, Bob relates that either he or Chris – he can't remember which – said, "I guess we could get married."
So, after three months of dating, a marriage began that lasted 67 years, until her passing last year. Shortly before Bob left for England, he decided to pursue a career in the ministry after the service. This news was not greeted with enthusiasm by Chris, who reacted to Bob's announcement by replying, "Now, I didn't plan on marrying a preacher!"
However, she changed her mind, and the couple spent three years in England, welcoming the arrival of the first two of their five children. Bob ended his Air Force years with the rank of Staff Sergeant and enrolled at the University of Mississippi. In need of funds to support his family, he took jobs serving small country churches as a pastor while he was an undergrad.
After graduation, subsequent seminary training brought him to Duke Divinity School. Again, he served churches as a student pastor during his years at Duke. After being ordained, he returned to Mississippi to continue his pastoral service. However, the discomfort of the stalled school integration situation there dictated a move for the family back to North Carolina. Bob's pastoral career here took his family to a dozen different UMC churches, including the associate pastor's role at Duke Memorial. His final appointment, Aldersgate United Methodist, covered 14 years – almost a record for frequently moved Methodist pastors. During his years at Aldersgate, the church building was relocated and a beautiful new facility was built on Umstead Road.
Bob and Chris moved to Croasdaile 14 years ago, after a lifetime of service in the ministry. He soon learned that he could continue his interest in woodworking, and served as manager of the Croasdaile wood shop for many years while he continued to create small projects. He has been active in CV Residents' Association, sings in the Chorale, and has been called upon to use his "preacher voice" as an emcee for programs and to assist with Chapel Memorial services.
He remains proud of his wife, Chris, for serving effectively as a preacher's wife over their long career. He expresses sincere gratitude for their wonderful experiences with the many people they met in the churches they served. Bob Wallace is a "man for all seasons" who symbolizes the "good and faithful servant."