Betsy Sprouse's Career Prepared Her for Retirement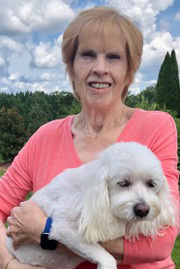 by Lynne Jung
Betsy was born in Washington, DC (a rare native) and grew up near Alexandria, VA. She graduated with a B.A. degree in Sociology from Radford University and a Master's in Sociology from Syracuse University. Betsy earned a Ph.D. in Adult Education and Gerontology at The University of Wisconsin-Madison.
She says, "I'm a gerontologist, but I can't treat your ailments: that's much better left to a geriatrician. But I'm happy to remind people about issues that affect the older population, such as eliminating trip hazards and reducing isolation."
Betsy retired in 2008 after 23 years with AARP in Washington, DC. Over the years, she worked as a Program Officer for AARP's foundation which supported research grants at colleges and universities, then moved to managing government grants awarded to AARP to support programs such as Tax-Aide. Before her

retirement, she directed AARP's scholarship, fellowship, and internship programs for college students interested in aging issues.
She is a past president of the Academy for Gerontology in Higher Education. Betsy considers her most significant professional accomplishment to be "the successes of the students and young professionals I have mentored."
On Finding Croasdaile Village
Betsy reports, "I looked at every retirement community in the Durham/Chapel Hill area. After two years of research, I knew Croasdaile Village was the right match. I moved in 2019 when my wonderful cottage on Susanna Drive became available." Betsy brags that she "has waterfront property!" She realizes it's a retention pond, but she still enjoys seeing geese and listening to frogs.
Betsy recently finished a two year term as Secretary of the CV Residents' Council, which she discovered was a great way to meet other residents. Currently, she is a proofreader for the Croasdaile Village Voice, serves on the EAGF Task Force, and volunteers at the Front Desk for Saturday lunch breaks.
Betsy lives with her 13-year-old cockapoo, Georgie. Though Georgie is fearful and not fond of other dogs, "she will warm up to anyone offering a bacon treat."
Among Betsy's varied interests are video games. "My nephew got me into gaming about 15 years ago. I use two gaming systems and also play games on my computer, iPad, and iPhone. It's much easier to master as a child than as an adult. My response time is definitely slower than a younger person's, but games offer an enjoyable challenge and a way to take a break from the day's activities."
Travel is another of her interests. Betsy's been to every continent except Asia, including a trip to Antarctica on a Norwegian cruise ship departing from the Argentine archipelago, Tierra del Fuego. Other favorite destinations are Iceland, Switzerland, Egypt, and the Iguazú Falls in South America.
"I've also been to all 50 states and am working my way through the U.S. National Parks," says Betsy.