CV Gardeners Grow Bountiful Produce
by Carolyn London
Close to 20 enthusiastic gardeners have worked their magic and shared their bounty this year from the ten deep beds near the CV maintenance building.
A wide variety of vegetables are growing every season, including cucumbers, snap peas, eggplant, broccoli, squash, okra, onions, lettuce, spinach, and tomatoes. In addition, there are marigolds, zinnias, and daisies. Peeping out from them, you can see herbs flourishing, like basil, cilantro, dill, and oregano.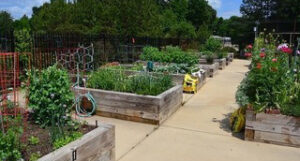 While we are fortunate to have these gardens, there is great demand for more beds so that even more residents may enjoy the benefits of "digging in the dirt," sharing seeds, plants and ideas. It is one of many life enrichment experiences available for residents at Croasdaile Village.