Great Grandchildren's Library
By Nancy Waters
Another Croasdaile Village gem, the Great-Grandchildren's Library, can be found on the 2nd Floor of Homestead, above Door 6, and between Elevators G and C in a sweet little alcove! Seven years ago, Charlie Kerr suggested we create a library for our grandchildren, and with the help of Joy Fassett Mermin, the library was born!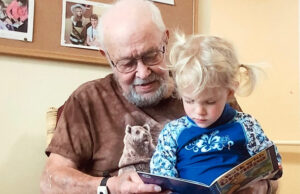 Today the library is carefully managed by Mickey Dougherty. Bookshelves display file caddies filled with books labeled: Beginner Books, Learn to Read, Sports, Weather, Pets, Feelings & Friends, Disney, Things to Make and Do Together, and Bedtime Stories; plus another 15 caddies loaded with wonderful books. There is also a caddie of DVD movies like Shrek and Toy Story and a shelf of books for Young Adult readers. Everything can be checked out in the check-out book located in the first shelving section.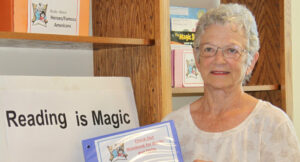 On a table across the room sits a box of paper, coloring books, and markers for younger children to draw pictures from a story read to them or express themselves in this lovely space. The alcove space contains a sofa, two soft, easy chairs, and even a comfortable rocking chair. Come check it out and bring your visiting grandchildren or  great-grandchildren — they will love it!