Meet Audrey Heiser – Our Most Elderly CV Resident at 102
By Jim Haskins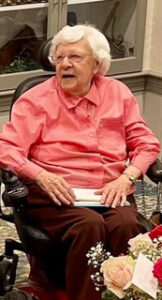 Audrey Heiser has had many unusual experiences in her 102 years. Born in Washington DC, and a business college graduate, one of her earliest jobs was at the U.S. War Department, where she was secretary to the Adjutant General. When she worked there, "Ike" Eisenhower was a Lt. "3-star" General.
Audrey married Ohio native Bill Heiser, an Oberlin College, then Georgetown University Engineering and MBA graduate, in 1943. Bill worked for the U.S. Navy in D.C. as a dam engineer, whose work took him and his family abroad in 1953 to India, where he worked on the Tungabhadra Dam. By that time, Audrey and Bill had three children, Chuck, David, and Marcia, ages 3, 5, and 7.
When they returned to the U.S., Bill got a private industry job for an engineering firm in Philadelphia, PA. A few years later, that job took them to Pakistan —where Bill assisted in the construction of the Tarbela Dam, the largest earth-filled dam in the world.
While there for over five years, Bill and Audrey sent all three of their children to a private school in Switzerland. Audrey fondly remembers the weekly get-togethers they had with four Pakistani neighbors. She also recalls the three shopping trips she made to Hong Kong.
Before the couple and children came back to the U.S., Bill worked on a project for a year in Iran. After all the children were off to college, Bill was sent to work on a Korean dam project.
Throughout his career, Bill was active in the American Society of Civil Engineers and the National Society of Professional Engineers, taking part in several travel/leisure trips worldwide. Audrey says, "I loved every minute we were overseas."
Upon Bill's retirement, he and Audrey moved to Fearrington Village in N.C. While he was Chair of the Chatham County Board of Elections for 11 years, Audrey was active in politics, serving as Chair of the Republican committee in Chatham County.
In 2001, they moved to Croasdaile Village and lived in a cottage on Susanna Drive, where Audrey served as a neighborhood representative for two years. Unfortunately, Bill died in 2003.
Over her 21 years living in CV's Homestead, Audrey has served as secretary for several committees, attended a lot of Durham Bulls games and spends time with her close friend, Sara Lee Howell, who is just five years younger than she. Audrey filled in at the Pavilion Healthcare welcome desk during lunch for over five years.
Audrey truly treasures her three children and her family of seven grandchildren and twelve greatgrandchildren.