OLLI at Duke – Lifelong Learning Opportunities for CV Residents
by Lynne Jung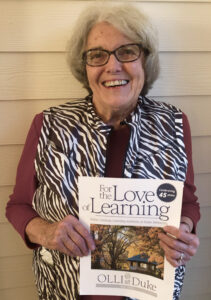 In 1977, with a grant in hand from a foundation supporting learningin- retirement programs, the Duke Institute for Learning in Retirement (DILR) was founded. Credit for DILR goes to Jean O'Barr, a former director of Duke Continuing Studies, and George Maddox, founder of The Duke Center for Aging and Human Development. New Croasdaile Village resident, Sara Craven, became director of DILR in 1987 when there were 200 members and 26 classes.
In 2001, The Bernard Osher Foundation awarded the first of 100 grants of $1 million each for the development of college or university-affiliated non-credit programs for older adults. Never had such an extraordinary commitment been made in this field. In 2004, they began awarding these grants to already-existing programs, of which DILR was one of the most senior, eventually giving yet another $1 million grant to DILR. There are now 125 OLLIs in all 50 states and Washington, D.C. DILR's name was changed to the Osler Lifelong Learning Institute at Duke.
As baby boomers began to retire, there was increased interest nationwide in senior programs. OLLI at Duke began a period of growth and expanded its classroom space from The Bishop's House on East Campus to the Judea Reform Congregation.
After serving 20 years as Director of OLLI, Sara retired in 2007 and became a volunteer and student. "At last," she said, "I could take some of the courses I had wanted to take all those years. I am in awe of the teachers and what they bring to the classroom. Of course, we could all be at home reading books. But the classroom experience, with a knowledgeable instructor and the give and take of educated students, can't be beat. OLLI is a place where I can take a short course about something I know very little about, like Syria, animal behavior, and medieval history."
Sara says, "History and literature classes have consistently been the most popular offerings. OLLI has always known that the humanities and older people are a perfect match. Owing to their years of experience, older people are most able to see the similarities among peoples and places over time and space. Odysseus and King Lear are not just characters; they are us."

When the pandemic lockdown began in March 2020, OLLI at Duke canceled its in-person classes. A month later, it provided lessons to members on how to use Zoom and began a series of online courses. In September, OLLI at Duke began a fall curriculum of 65 courses offered via Zoom. "Many were excited to be teaching online for the first time," said the institute's current director, Chris McLeod. Members who never took courses because they traveled or babysat for their grandchildren registered. Since moving to an online platform, OLLI members are tuning in from all over the globe.
OLLI at Duke is celebrating its 45th anniversary with 1600 members. It offers more than 375 courses annually in two 10-week terms (fall and winter) and one six-week term (spring), taught in a collegial and comfortable learning environment by an average of 200 unique instructors per year. The Fall catalog offered 70 courses (44 via Zoom), covering many subjects, including Existentialism, Watercolor Painting, and A History of Ukraine. The Winter catalog is due out in mid-December; registration will be January 10-11 for the Winter Term, which will begin January 30.
For more information about OLLI at Duke, go to http://www.learnmore.duke.edu/olli/