Volunteers Living & Serving at CV: Jane Penland Hoover Uses Penstrokes to Teach Writing
by Jim Haskins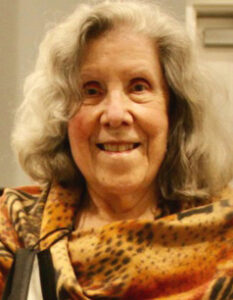 For more than two decades, Jane Penland Hoover led a reflective writing group called Penstrokes: Writing Life, similar to the class she volunteers to teach on Wednesdays from 2:00 to 3:30 pm in Roy's Room.
Says Jane, "I learned as a certified facilitator of Proprioceptive Writing and the Amherst Writers and Artists method, to use the reflective question, what do you mean by, to get my students to focus and clarify their thinking as they write, read and respond to one another's writing. I've learned from many students that they never thought they could ever write, but now can with the help I've provided them." Jane has already committed to holding her writing course for CV residents throughout 2023.
Resident Dottie Osborne first took a writing class under Jane at Olli, when she taught classes for several years in the program. Says Dottie, "Jane's stories always attracted lots of attention because they were always so well-written and interesting, plus she had the skills and talent to show the rest of us how to construct our pieces."
Jane started Penstrokes, Inc. 21 years ago while working as the chief executive for her church's senior housing communities in Decatur, Georgia. That was after her husband, Ron, suffered a massive stroke, leaving him with the residual effects of right-side paralysis and aphasia. Jane and Ron moved to Croasdaile Village in 2005, and celebrated their 50th anniversary five years ago before he died in 2021.
In case you didn't already know, Jane's sister, Carol Holbert, is also a Homestead resident.
Jane and Ron delight in life, family, nature, music, puzzles, and the soft breezes that push through the weeping willows once, across their stretch of lawn. They savor the taste of light as it grows and widens spreading day, only to retreat to sleep a while before the filtered gleam of dawn shuffles through the blinds to fall across their bed, awaken them again….some reflective writing of Jane Penland Hoover.