Former NY Times Columnist Addresses the 'State of Journalism'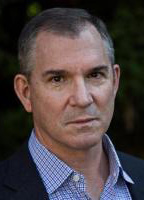 Frank Bruni, the Eugene C. Patterson Professor of the Practice of Journalism and Public Policy in Duke's Sanford School of Public Policy, spoke as a Visiting Lecturer on: "Journalism: How It has Changed, and Why it Matters."
Frank joined the Duke faculty in 2021 after more than 25 years on the staff of The New York Times, where his various roles included White House correspondent, Rome bureau chief, chief restaurant critic, and most recently, Op-Ed columnist. He remains a Contributing Opinion Writer and has a weekly Times newsletter (nytimes.com/BruniLetter) that is published every Thursday.
During a Q&A session with residents, Frank responded to one questioner on the future of print journalism, using an example of print via the Internet as a promising new approach:
The 9th Street Journal is a weekly news digest published by students in the DeWitt Center for Media & Democracy at Duke University. "The 9th" is edited by Alison Jones, the daughter of new CV residents Pete and Margaret Jones.