History of the new The Heritage Apartments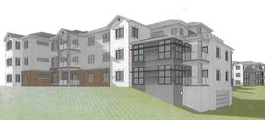 By Jim Haskins & Kent Guy
Most Croasdaile Village residents have been watching for over a year since the 'old' Heritage Hall was razed, and construction began on the 'new' The Heritage luxury apartment living facility. They've seen hundreds of truckloads of dirt removed from the site and the recent "topping off " of the new three-level building with 54 apartments. But most current residents have wondered what the new apartments will look like inside.
Apartment Features
"The first thing that's different is that the new residents' parking will be below them in a large underground garage," reports CV Marketing Director Lisa Kistler. Built around two, 4-story elevators, the smallest apartments will be 1,044 sq. feet unit (one bedroom plus a den), with the largest unit at 2,071 sq. feet (two bedrooms plus a den). All are configured in an openstyle setting, with a combination of living, dining, and kitchen areas, 9-foot ceilings, large windows, peninsula or island in kitchen, recessed can lighting, side-by-side washer and dryer, plus a balcony.
Each apartment also has a caged storage area at the garage level. The facility also will include a meeting room on the second floor level. On the main level of The Heritage, there will be four offices for Life Enrichment and Navigation/Home Care departments, which are accessed from the corridor by Few Chapel into the Village Commons area.
Resident Selection Process
"From notices to our then 900+-person wait-list," says Lisa, "387 prospects came to an early January 2020 meeting. At that session, Phase 3 developers from Life Care Services Development, SFCS architects, and CV administrators detailed the floor plans and pricing for the various size apartments in The Heritage. Before the end of the month, we began contacting prospects in order of their priority number to schedule reservation meetings with our marketing staff."
Lisa adds proudly, "Between April and June, 2020 we could begin taking 10% deposit from the 54 reservations made in February and early March. While we lost a few of our original reservations, eager prospects were waiting to get an offer. Having made reservations and received 10% deposits during our Covid-19 restrictions was remarkable."
Between August and November of 2021, the CV Marketing staff held two selection meetings with each Phase 3 Expansion Resident (108 individual meetings) to allow them to select paint, flooring, cabinetry, fixtures, lighting, and hardware.
Construction Progress
The Phase 3 Heritage Residents have been attending Monthly Coffee with the Contractor Meetings, since August of 2021. Lisa reports that, "Many as 60+ are in attendance at each meeting to be updated on construction from Jonathan Wall, Project Supervisor. It's also been a time to facilitate discussion, to allow these new residents to learn more about Croasdaile, and grow closer together as the newest addition to the Croasdaile family."
Thanks to very favorable weather, for the most part, the work of Blum Construction has been pretty much on schedule. With the recent topping off of roofing covering the entire structure, completion of The Heritage is slated for next spring, with residents moving in during the summer months.
Proud of her staff 's efforts during this busy time, Lisa adds, "Croasdaile Village is very fortunate to be considered 'the place to live in retirement in the Triangle.' As a result, our wait list now consists of approximately 1,100 people who have deposited a fee to get an opportunity for an offer to live at Croasdaile in the future."
Specs of The Heritage
Apartments Sq. Feet # Type of units
Albemarle 1044+/- (18) 1 BR, Den
Beaufort 1134+/- (1)
Chatham 1300+/- (1) 2 BR
Durham 1374+/- (9) 2 BR, Den
Edgecombe 1376+/- (4)
Forsyth 1439+/- (6)
Graham 1508+/- (8)
Halifax 1794+/- (5)
Iredell 2071+/- (2)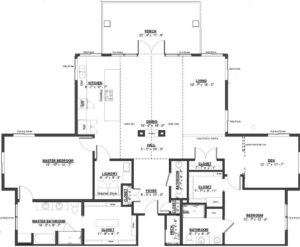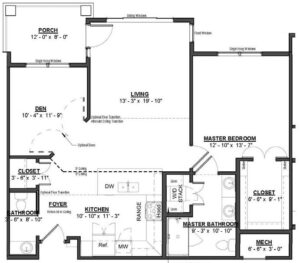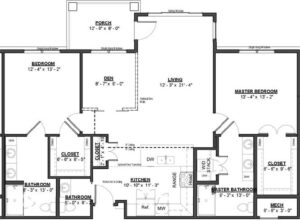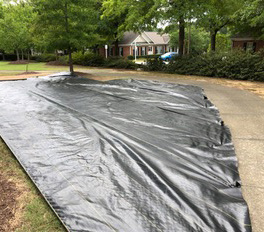 With the construction of The Heritage, what's happening with the Hallas Bird Sanctuary? Over the next several months, look here for what's going on:
In July, fluorescent orange paint was sprayed where a tarp was then laid to eliminate Bermuda grass in the area— in preparation for creating a xeriscape garden. Like some areas in Duke Gardens, it will have bushes and plants requiring little or no irrigation.