Meet Jack and Anne Carroll
by Jim Haskins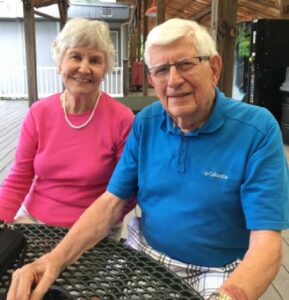 Jackson (Jack) and Anne Carroll, residents of Croasdaile Village for 14 years, have been married for over 68 years. A native of South Carolina, Jack graduated from Wofford College, while Anne, who grew up in Ellerbe, N.C., received a degree from Greensboro College. They were married in 1954 after Jack's first year at Duke Divinity School and Anne's first year teaching second grade in a Durham public school. Following Jack's graduation from Duke, the couple spent a year in Dumfries, Scotland, where Jack served as Assistant Minister of St. Michael's Church (Church of Scotland).
Returning to South Carolina, Jack was appointed as pastor of Mt. Holly Methodist Church in Rock Hill, the town where Anne gave birth to their two daughters. After four years in SC, Jack was invited to become the Methodist Chaplain at Duke, and the family moved to Durham. Anne, an accomplished pianist, taught piano to many Durham children.
Jack greatly enjoyed his ministry with Duke students, but felt a growing sense of calling to a teaching ministry. An opportunity to do graduate study led to a move to Princeton, NJ, where Jack received a Ph.D. in Religion and Society from Princeton Theological Seminary.
After Princeton, Jack assumed a position at Emory University's Candler School of Theology in the Religion and Sociology program and directed the Religious Research Center. Anne taught second grade at the Westminster School in Atlanta during this time. One of her students, whose father owned the Atlanta Hawks NBA basketball team, brought Pete Maravich to class for show-and-tell!
The Carrolls left Atlanta in 1974 when Jack was invited to teach and begin a research center as part of an innovative new program at the Hartford Seminary in Connecticut. There he spent 19 years, during which time the Center for Social and Religious Research became nationally known for its research on American religious life, using sociological research in the service of the church. Jack was named McKenzie Distinguished Professor and served for a year as the seminary's interim President. While there, Anne began a new career in real estate sales.
In 1993, Jack was invited to return to Duke as the Williams Professor of Religion and Society and Director of the J. M. Ormond Research Center. He continued his teaching and research until his retirement in 2004.
Throughout his career, Jack received numerous foundation grants that enabled him and his colleagues to research issues and trends in American church life. He is the author, coauthor, or editor of 15 books. He was the recipient of an honorary Doctor of Divinity degree from Wofford College and Duke Divinity School's Distinguished Alumnus Award.
The Carrolls share a love of travel. They spent sabbatical leaves in England, Australia, Nigeria, and South Africa. They also enjoyed growing roses and have been avid collectors of North Carolina pottery (until shelf space ran out). They especially love spending time with their family, including five grandchildren and four great-grandchildren.
At Croasdaile Village, both have sung in the Croasdaile Chorale and have served on numerous committees. Jack spent two terms as CVRA President and two terms as Treasurer. Making new friends among Croasdaile residents has been a great gift they continue to enjoy.