Volunteers Living & Serving at CV: Anne Drennan Leads Volunteers for HELP
by Lynne Jung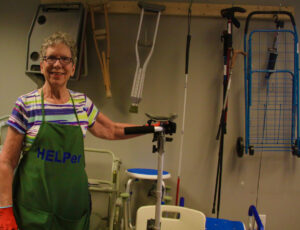 Croasdaile Village resident Anne Drennan was instrumental in the startup of HELP, a program of Project Access of Durham County (PADC). Durham County residents can have a free loan of durable medical equipment, e.g., walkers, wheelchairs, crutches, tub benches, and bedside commodes. HELP receives donated items, and checks for safety, and cleans and sanitizes them. The loan is for three months, but recipients may renew as often as needed.
HELP is located at 4206 N. Roxboro Rd, Suite 100. If you are interested in volunteering, two-hour or four-hour shifts are possible on Tuesdays from 10 a.m. to 2 p.m. or Fridays from 1 to 5 p.m. Training is available. Anne says, "It isn't hard work. There are about 12 volunteers who have fun while visiting and cleaning." You can volunteer to repair, clean and sanitize, or provide customer service to patrons. Most gently-used donations are welcome but call 919-748-1022 to confirm items are being accepted. For more information, contact Anne at x2371.
Anne graduated from the University of South Carolina College of Nursing in 1972 and moved to Durham when her husband Jim attended Duke University School of Law. Anne worked at Watts Hospital and taught at the Watts Hospital School of Nursing.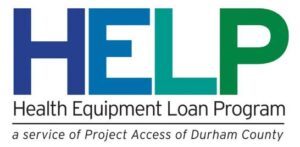 Anne has had a variety of interesting jobs in hospital nursing, teaching, and Congregational Health Nursing, a specialized church and faith-based health education and care ministry. Once she retired, that experience led her to start HELP and volunteer at several Patient and Family Advocacy Councils (PFAC) within the Duke Health System. Anne says, "I have a long-time passion for improving patient health access and literacy."